Applying Self-Management Tools to Your Daily Life
Managing your physical symptoms
To better manage your physical symptoms, it is important to recognize warning signs of lupus flares or worsening organ disease. Allowing the disease to worsen will make it harder to reverse the inflammation or organ damage, take care of your family, go to work, and participate in other activities that are important to you.
Even if you do not feel sick, you should follow your rheumatologist and/or nephrologist's directions, which include:
Taking your medications as prescribed.
Attending scheduled appointments to monitor your kidneys.
Practicing healthy lifestyle habits that may help your disease.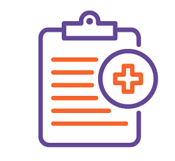 Lupus and lupus nephritis may cause subtle symptoms or even no symptoms in the early stages. If one or more of the following symptoms occur, contact your healthcare provider as soon as possible to discuss them.
Swelling in the feet, ankles, legs, or around your eyes.
Bloody or foamy urine.
Needing to urinate more often than usual, especially at night.
Self-management goal setting for physical symptoms
To help you set goals for managing your physical symptoms the ACR recommends keeping a journal or log to track these goals:
Track new symptoms and when they started.
Track existing symptoms that are improving.
Track existing symptoms that are not improving or getting worse.
Track your blood pressure if your healthcare team believes that blood pressure management is a good self-management skill for you to have.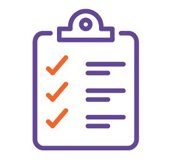 If you miss tracking your symptoms one day, don't be too hard on yourself. Once you remember, add the tracking information to your journal or log. Use a journal or log to monitor your symptoms. Take your symptom tracking information to all healthcare provider appointments. Life can get very busy but try and make these actions a regular habit. Adding a reminder to a daily calendar may help.
For more self-management information, download our complimentary:
Empowered Self-Management Booklet for People Living with Lupus Nephritis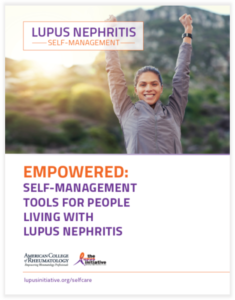 Watch These Short Videos to Learn More

Lupus Nephritis Can Have Lasting Effects
What is self-management and why is it important?
Skill Builder Understanding Your Lab Tests
Self-management advice from doctors who treat people with lupus – and from people living with lupus and lupus nephritis
Other Resources for Management of Physical Symptoms
( Note: These are all external web resources )

Managing Fatigue
Strategies for Managing Fatigue
Information and strategies to help people with lupus manage fatigue provided by Lupus Foundation of America's National Resource Center on Lupus.

Managing Emotions Including Depression, Anxiety, Anger, and Frustration
Coping with Depression
Video created by WebMD in which people living with lupus share how feelings of depressions have affected them and how they manage them.

Managing Pain
Easing Joint and Muscle Pain
Information on joint and muscle pain by Lupus Research Alliance.
Strategies For Managing Pain
Information and strategies to help people with lupus manage pain caused by lupus or fibromyalgia provided by Lupus Foundation of America's National Resource Center on Lupus.

Managing Sleep
Lupus and Sleep
Video created by WebMD that provides tips to improve your sleep

Managing Memory and Concentration Issues
Dealing with Lupus Fog
Lupus Research Alliance's Coping Corner describes a symptom that some people with lupus experience which is often referred to as "brain fog" and offers tips on how deal with lupus brain fog (March 23, 2011).