What is Self-Management and How Can It Help People Living with Lupus?
What is self-management?
The American College of Rheumatology defines self-management as a person's continuous engagement in his/her healthcare to understand the illness, participate in the determination of a treatment plan, understand and adhere to the treatment plan, and feel empowered to discuss ongoing symptoms and challenges with their healthcare team.
Disease knowledge and individual needs
Lupus and lupus nephritis affect everyone differently. Each person has different strengths and obstacles that can affect how they manage the disease. So, it is important to understand the skills and support you need to successfully manage lupus and your overall health.
Scroll down to access information and learn skills related to self-management.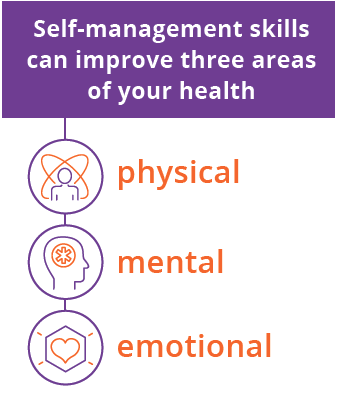 Applying Self-Management to Your Daily Life
Applying Self-Management to Your Daily Life
The American College of Rheumatology (ACR) is an ethically-driven, professional membership organization committed to improving the care of patients with rheumatic disease and advancing the rheumatology subspecialty. The ACR Lupus Initiative® is a multi-faceted education program designed to reduce disparities and improve outcomes among people with lupus.